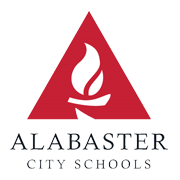 Alabaster City Schools
Guidelines for Proof of Residence
Students new to the Alabaster City School System must present to the school the following documents:
A certified birth certificate and verification of guardianship

if different from birth certificate

.
An up-to-date State of Alabama Immunization Certificate (blue slip)
Verification of Residence: Two proofs of physical residency – All documents submitted as proof of residence must contain the parent or legal guardian's physical address in order for the school to verify that the residence is in zone. (No Post Office Box address will be accepted)
Provisions for determining residence: Must submit at least one primary proof
Primary Proofs:
1. Utility Bills or Deposit Receipts 2. Apartment or Home Lease
a. Electric bill a. Apartment lease (listing the occupants)
b. Water bill b. House lease
c. Gas bill c. Apartment rent receipt
d. Garbage bill d. House rent receipt
Secondary Proofs:
1. Property Tax Record or deeds
a. Tax receipt
b. Property deed
2. Income Tax records
a. Copy of check from the IRS
b. Correspondence from the ITS
c. Copy of W2 Form
d. Business Tax records or receipts
3. Other Official Proof of Residence Documents
a. Social Security checks or other correspondence from Social Security office
b. Miscellaneous correspondence from other US Government agencies
4. Employment Records
a. Paycheck stub issued from employer showing the physical address of the employee
5. Bank Records
a. Bank or Savings account statement
b. Loan statements
6. Non-utility Bills
a. Cell phone bill
b. Credit card bill
c. Cable Bill
Notarized Affidavit Statement of Legal Residence: These forms are available at each school.
Alabaster City School Officials conduct random home visits. Misrepresentation on this affidavit may result in prosecution by the Shelby County District Attorney's Office.
The affidavit will allow students to enroll temporarily.

The parent/legal guardian and the homeowner are to bring the affidavit in person to the school and present at least two proofs of residence in the homeowner's name.

Once admitted temporarily, the parent/legal guardian has up to 30 calendar days in which to present the required documentation of proof of residence in the parent/legal guardian's name at the physical residence on the affidavit.

Failure to complete the required process concerning Affidavits will result in the student being withdrawn from the school.